Links
THE RICHARDSON-SLOANE SPECIAL COLLECTION CENTER
–Lower Level – Davenport Public Library, 321 Main Street, Davenport, IA
SPECIAL COLLECTIONS BLOG
–Sign up for eNewsletter available at top of Blog page
SPECIAL COLLECTIONS FACEBOOK
Davenport Public Library  -Main page
AMERICAN/SCHLESWIG-HOLSTEIN HERITAGE SOCIETY
121 W Bryant St., Walcott, IA

BIX BEIDERBECKE MUSEUM AND ARCHIVE
Museum: River Music Experience, 129 N Main St, Davenport, IA
Archive: Richardson-Sloane Special Collections Center, DPL, 321 N. Main, Davenport, IA
DAVENPORT IOWA FAMILY HISTORY CENTER
4929 Wisconsin Avenue, Davenport, IA 52806
GERMAN AMERICAN HERITAGE CENTER & MUSEUM
712 W 2nd Street, Davenport, IA
IOWA GENEALOGICAL SOCIETY
628 E Grand Avenue, Des Moines, IA 50309-1924
ROCK ISLAND COUNTY ILLINOIS GENEALOGICAL SOCIETY
SWENSON SWEDISH IMMIGRATION RESEARCH CENTER
Augustana College, Swenson Center, Rock Island, IL
WALCOTT HISTORICAL SOCIETY AND MUSEUM
102 E Vernon St., Walcott, IA
SCOTT COUNTY, IOWA GENEALOGY AND INDEXES TO MANY DATABASES
IOWA – SCOTT COUNTY MUSEUMS
BUFFALO BILL MUSEUM
199 N Front St., LeClaire, IA
Preserves early history, documents and relics pertaining to the Mississippi River, the Native American race, and William Cody, more commonly known as Buffalo Bill, early American life and settlers, and with particular emphasis to be placed on the relations of the above, and the connection with LeClaire Township and Scott County.
BUFFALO HISTOCIAL SOCIETY & MUSEUM
409 3rd St., Buffalo, IA
Houses information regarding the founding and history of the City of Buffalo as well as interesting artifacts
DAVENPORT SCHOOLS MUSEUM
J.B. Young Opportunity Center, 1702 N. Main St., Davenport, IA
Serves as a resource for learning and preservation of the history of Davenport Community Schools through the acquisition of historically and culturally significant object and records.

FAMILY HISTORY MUSEUM
2900 Learning Campus Dr., Bettendorf, IA 52722
INTERNATIONAL FIRE MUSEUM
2301 E. 11th St., Davenport, IA
located Village of East Davenport,
which host various special events during the year
IOWA 80 TRUCKING MUSEUM
I-80 Exit 284, 505 Sterling Dr., Walcott, IA
PALMER FAMILY AND CHIROPRACTIC HISTORY MUSEUM
Vickie Anne Palmer Hall, 115 W 7th St., Davenport, IA
PUTNAM MUSEUM AND SCIENCE CENTER
1717 W 12th St., Davenport, IA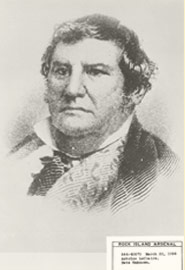 Member Login
Recover password
Become a Member
Join us and take advantage of our extensive records collection: cross-filing your queries, enabling "cousins" to learn of you: and use our Bulletin Board to reach out to a network of other genealogists. You will also receive our newsletter.
Membership Form